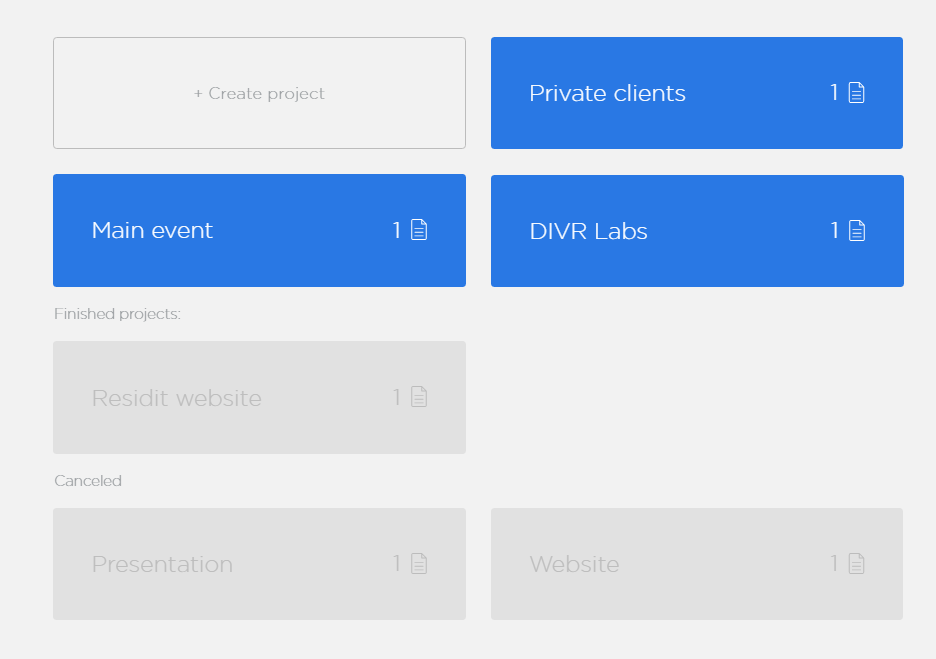 Simple board for your calculations
On board you´ll find all your calculations all together. Drag & drop calculation to set it as finished or canceled. On board you can also create a new calculations too.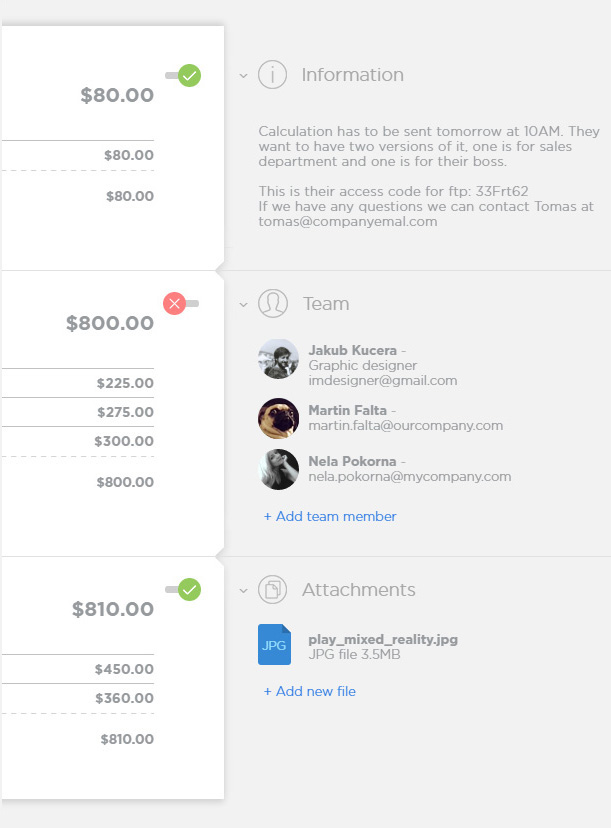 All in one place
Every project you work on can have many calculations. This way you can easily manage different type of costs for one project at the same time. Calculation itself is separated into single blocks with specific price. The last thing is to set your items and work time.
Invite your team
As soon as you´ve created a new project, you´ll want to invite your team members. In detail of project you can invite as many members as you want, resend invitations and cancel them. After they confirm your invitation you can cooperate and create budget all together.
Currencies
To make it easier, you can choose currency for your project. For every unique project you can choose specific currency as you want. Set your currency, price per hour and let Tooltee count it for you.

Templates
Tooltee´s template are pre-prepared calculations divided into blocks for easier start. You can edit this template anytime you want and customize it.
Are we ready?
Every calculation can be divided into separates blocks. These blocks can be tagged as done or not ready. Tagging blocks help you and your team to prepare your calculations on time.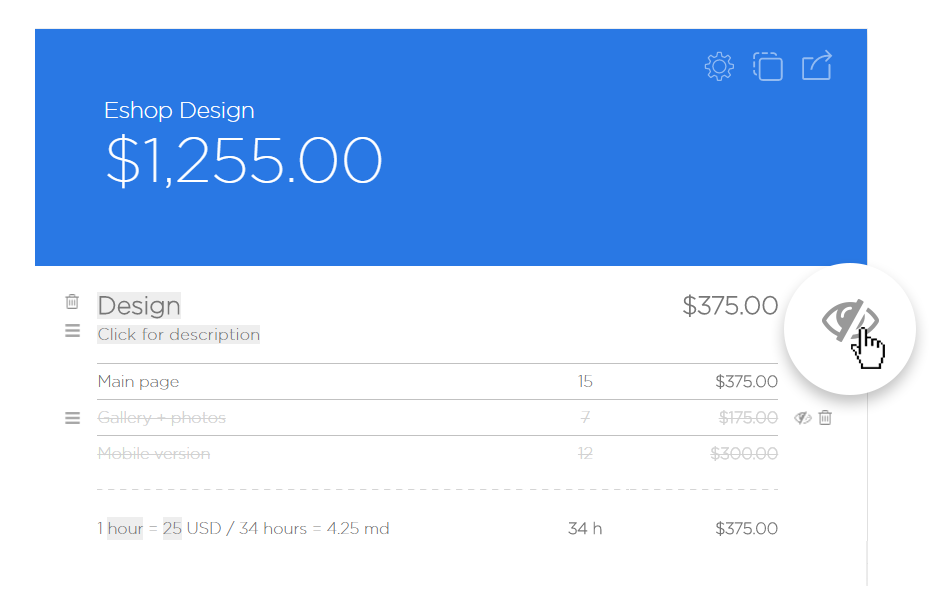 Hiding items
If you're not sure about some item or items you can hide them anytime you want. Total amout is automatically converted. You can show your hidden items again.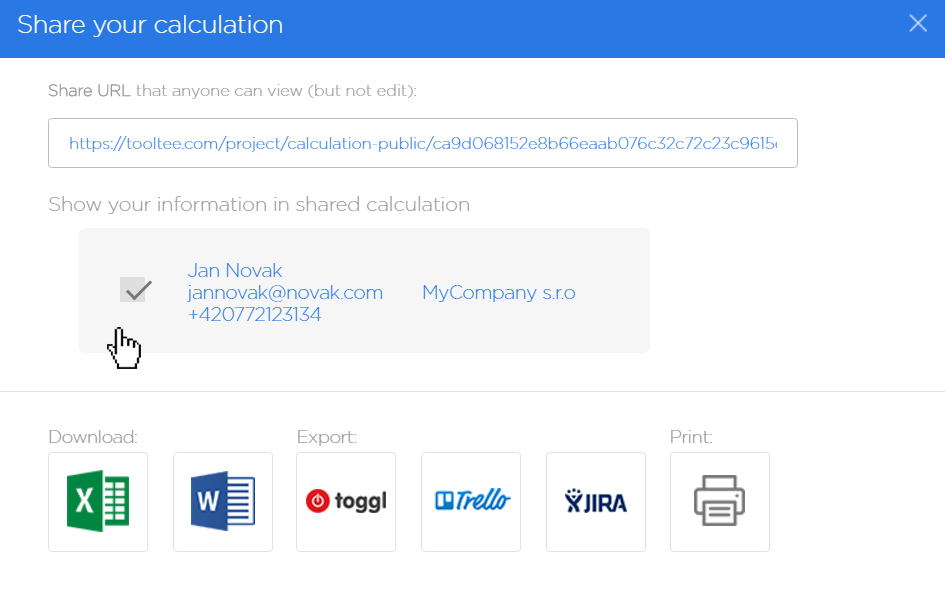 Company details
With your calculation you can also share your company details. It's easy. Just check company details option and your clients will see it in your shared calculation.
Multiple unit item
In advanced item option you can choose from diferrent units to cost. Create item with cost per hour, man-day, piece, kilometer, mile, unit or use Tooltee advance option.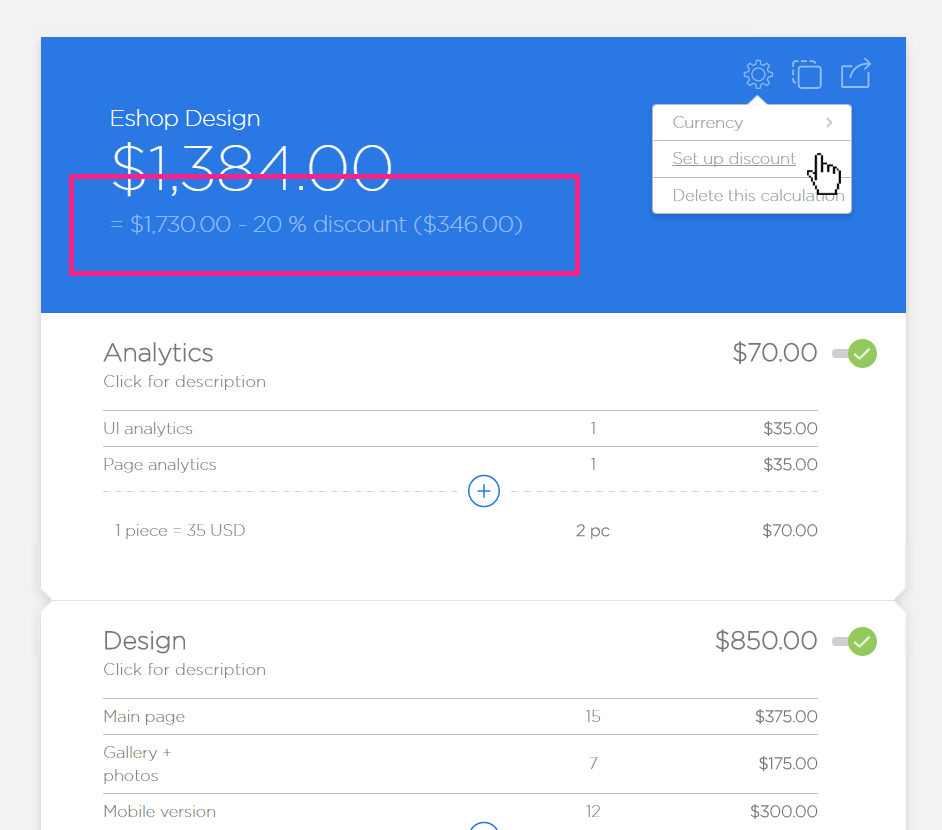 Discount
If you need, you can set discount for your project. Just insert discount amount in % and Tooltee automatically convert your total price.
Fee or Discount
Every single block can have additional extra cost or doscount.

You are safe with Tooltee
Your data are save withTooltee! All runs over SSL/TLS/HTTPS, the most common and trusted communications protocol on the internet. Your data is yours. If you ever want to stop using Tooltee, you´ll be able to download your data.
Tooltee PREMIUM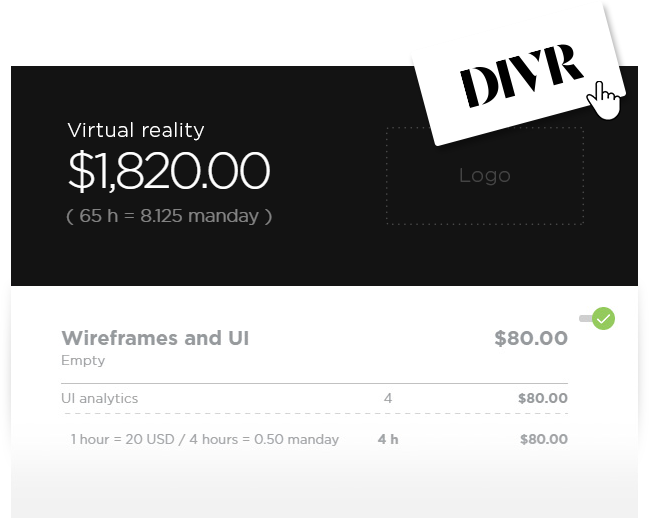 Coloured & branded
Create your calculations like a pro. Enterprise edition let you set your logo and colour to mark your calculations with your own custom company branding.
Tooltee PREMIUM
Complete History
You have now total control in history in every project and calculation.
Tooltee PREMIUM

Tag
Choose from a colorful palette of Tags and tag your project. You can also customise every tag by text description.
Tooltee PREMIUM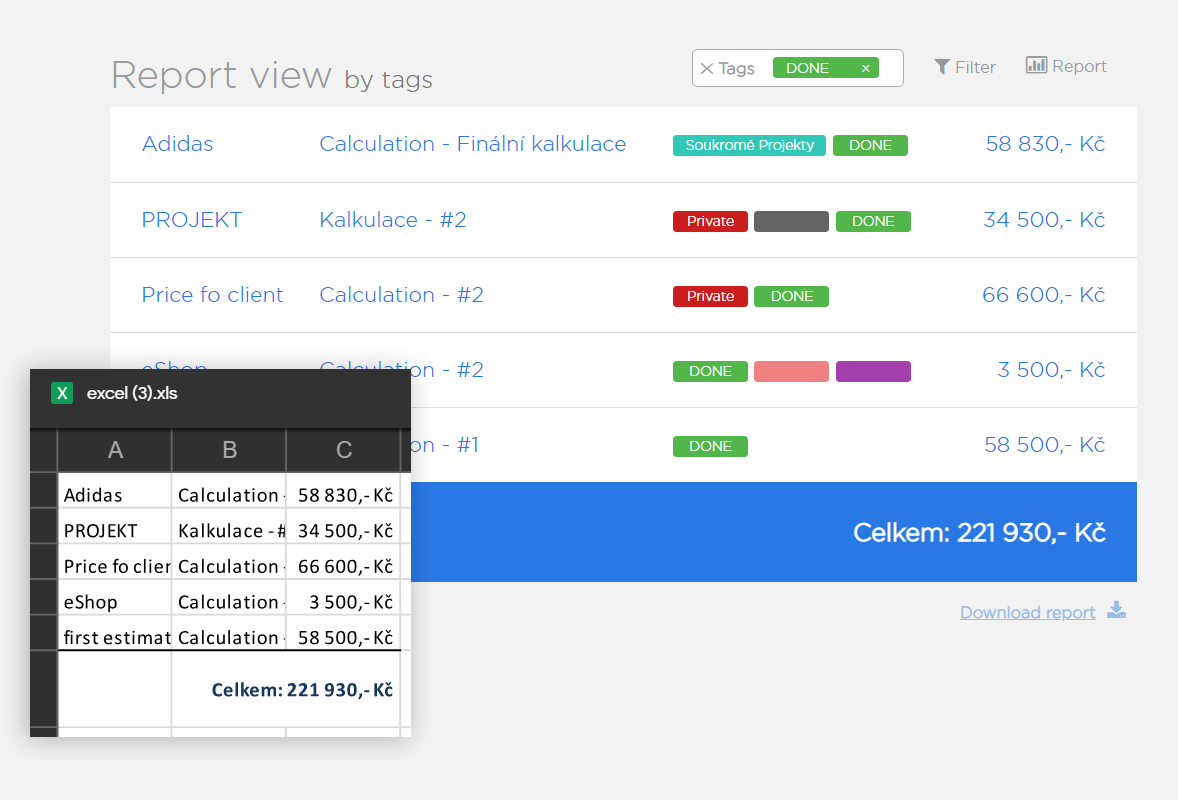 Financial overview & export
You can choose calculations you need and create financial report in CSV format.
Tooltee PREMIUM
Unique URL for your company
A custom URL is a great way how to show your brand and mark your work. Custom url is really helpfull when you are sharing your calculations in public.
Tooltee PREMIUM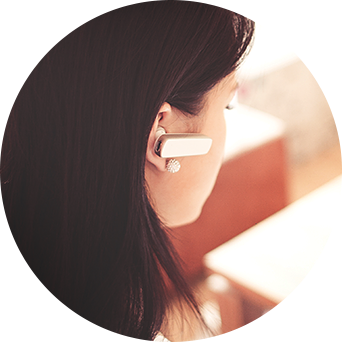 VIP support
Do you have some problems and need help? Don´t hessitate to ask us! For your peace of mind we are here almost 24/7.